Recipe: Chicken and Gnocchi Soup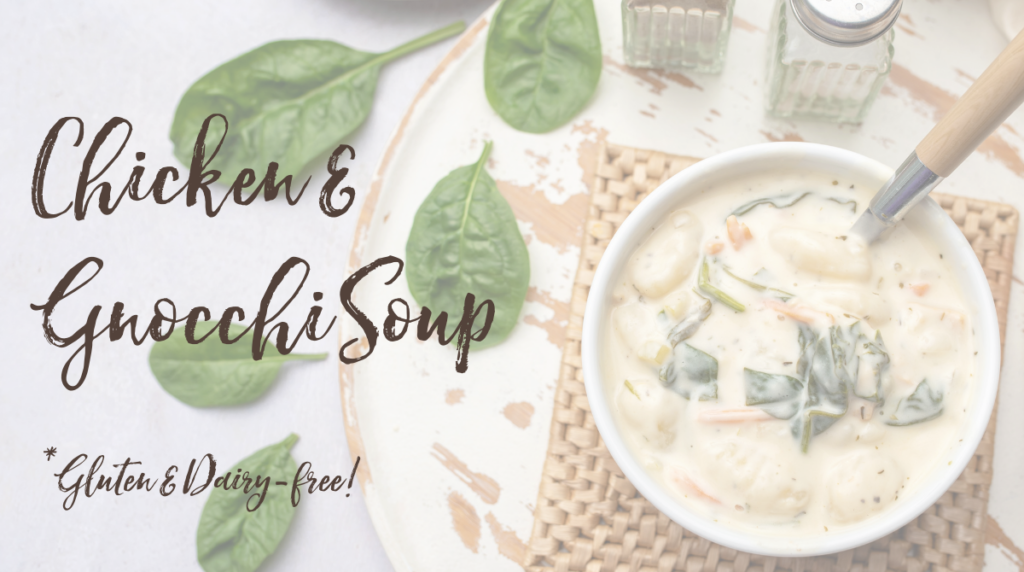 It can be tricky to find new gluten & dairy free recipes. This tasty soup fits both requirements and is also Plate Method.
Gnocchi (pronounced nyoh-kee) is a traditional Italian pasta dish consisting of small dumpling-like pasta. Gnocchi is versatile and can be made with a variety of different ingredients – including potato & cauliflower – which can add a boost of veggies (and nutrients) to your pasta meal while still allowing it to be prepared gluten-free, if necessary.
Pairing this pasta with coconut milk results in a delicious, creamy dish. The canned coconut milk used in this recipe is not to be confused with the cartons of "coconut milk" or "coconut milk beverage" you may see in the refrigerator section of the grocery store. The canned version of coconut milk contains much more coconut pulp (the flesh of the fruit) and is thick & creamy as a result. The carton version is generally combined with water and is similar to an almond/soy milk beverage.
We hope you enjoy this creamy and comforting Plate Method meal!
Chicken and Gnocchi Soup – Gluten and Dairy Free!
Serves 4-5
Ingredients
2 Tbsp olive oil
1 lb chicken breast, diced
½ medium white onion, diced
3 large celery stalks, chopped
2 cloves garlic, minced (or 1-2 tsp minced garlic from a jar)
1 can full-fat coconut milk
2 tsp arrowroot starch
4 C chicken broth
2 large carrots, peeled and shredded
16 oz cauliflower gnocchi (Trader Joe's or Whole Foods)
2 ½ C fresh spinach
1 tsp sea salt
1/4 tsp black pepper
Directions
Heat olive oil in a large stock pot over medium heat on the stove. Once oil is heated, add chicken to pot and cook chicken until an internal temperature of 165 is reached, roughly 8-10 minutes. Remove chicken from the pot and set aside.
Add the diced onion to the pot and cook until fragrant, about 3-4 minutes. Add the celery and garlic and cook for another 2-3 minutes, until garlic and celery are fragrant.
While the vegetables cook, whisk together the coconut milk and arrowroot starch in a medium bowl. Pour this mixture, the chicken broth, cooked chicken, shredded carrots, and gnocchi into the pot with the onion and celery. Stir well to combine.
Bring to a low simmer and allow to cook for 8-10 minutes. Salt and pepper to taste. Stir in the spinach and allow to wilt. Serve warm and enjoy!
Swaps
For the coconut milk: whole cow's milk (if dairy-free isn't necessary)
For the arrowroot: 1 Tbsp tapioca or 1 ½ tsp cornstarch
For the cauliflower gnocchi: sweet potato gnocchi, potato gnocchi, or another gluten-free gnocchi variety
Recipe Modified From: Unbound Wellness