Recipe: Chewy Cinnamon & Seed Snacks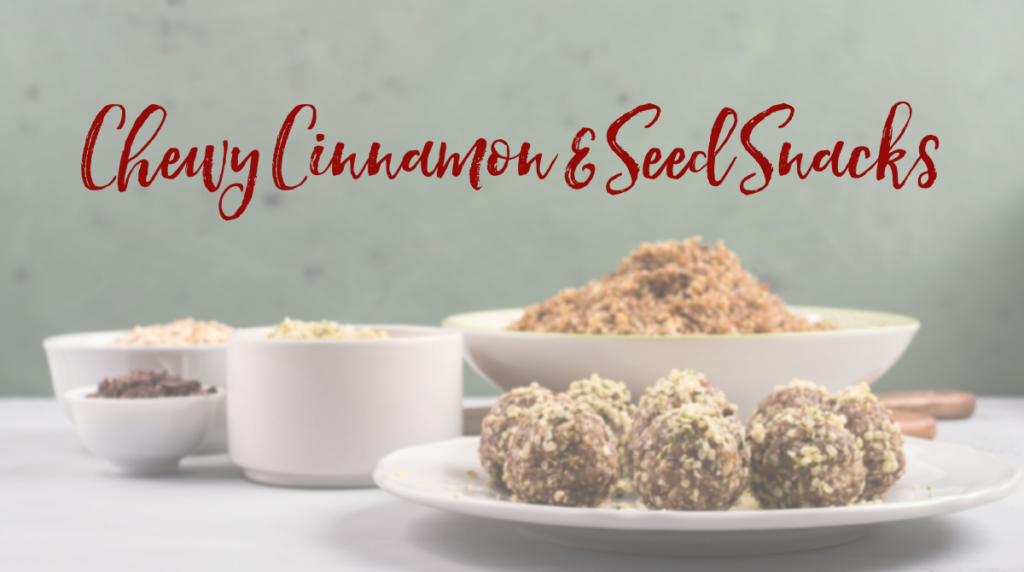 Snacks can be a great way to bridge the gap between meals and keep us energized throughout the day. But satiety and energy levels depend entirely on what goes into those snacks! Incorporating healthy fat and protein sources, like nuts and seeds, ensure the snack truly satisfies hunger. Get some bonus points for cinnamon with its supportive research in stabilizing blood sugar levels!
The seeds and nut butter in this recipe can be mixed and matched to accommodate your preferences or to simply use what you have on hand. One beneficial aspect of the seeds in these bites is their richness in nutrients like zinc and selenium. These minerals are beneficial for boosting immune function, supporting thyroid health, and reducing cellular damage that generally accumulates over time.
No matter the reason, whip up a batch of these Chewy Cinnamon & Seed Snacks for easy snacking any day of the week!
Chewy Cinnamon & Seed Snacks
Serves 12-14
Ingredients
1/3 C flaxseed
1/3 C pumpkin seeds (pepitas)
3/4 C rolled oats
1/4 C almond butter (thin/smooth texture)
1/4 C pure maple syrup
1/4 C unsweetened shredded coconut
1 tsp vanilla extract
1 tsp cinnamon, or more to taste
Sea salt, to taste
Directions
In spice/coffee grinder, blender, or food processor, blend seeds until finely ground into powder. Pour into medium bowl. Set aside.
To grinder/processor, add half of oats. Pulse few times to break oats into smaller pieces. Add ground and whole oats to bowl with seeds.
Add remaining ingredients to bowl and stir well to combine into moist dough. Shape into tablespoon-sized balls. Refrigerate in air-tight container until ready to eat.
Swaps
For the flaxseed: sesame seed
For the pumpkin seed: sunflower kernels