Recipe: Cauliflower Stuffing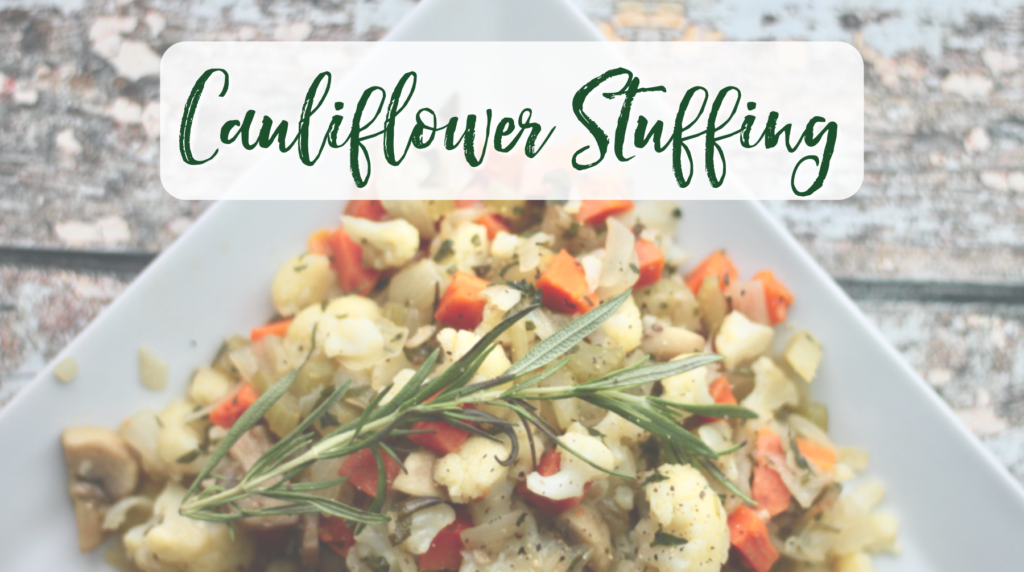 The idea of transforming a classic holiday side dish into a veggie-loaded delight is just too hard to resist! Luckily, the bold flavor of traditional stuffing herbs like rosemary and sage ensures the modifications don't stray too far from tradition. Many holiday tables are filled with delicious, tried-and-true, favorite recipes, but it's no surprise many are lacking in color and the corresponding veggie nutrition. So we elevated the standard stuffing in a way that makes it a great choice as a side dish even on a typical Tuesday. But make no mistake, this stuffing is still rich, savory, and oh-so-satisfying.
Cauliflower Stuffing
Serves 6-8
Ingredients:
2 large carrots*
1 large onion*
2 celery stalks*
1 small head of cauliflower
1 C mushrooms
1/4 C fresh parsley
2 Tbsp fresh rosemary
2 Tbsp fresh sage
4 Tbsp butter
Salt and pepper, to taste
1/2 C low-sodium vegetable broth
Directions:
Peel carrots. Chop carrots, onion, celery, cauliflower, and mushrooms into similar sizes. Chop parsley, rosemary, and sage.
Melt butter in large skillet on stove over medium heat. Add onion, carrot, and celery. Sauté until soft, 7-8 minutes.
Add cauliflower and mushrooms. Season with salt and pepper, to taste. Sauté until tender, 8-10 minutes.
Add parsley, rosemary, and sage. Stir to combine. Add broth. Cover. Cook until vegetables fork-tender and liquid completely absorbed, about 15 minutes. Serve warm.
TIP: Hate chopping? Replace starred (*) ingredients with a 14.5 oz container mirepoix from the refrigerated section of Trader Joe's or 1 1/2 bags of frozen mirepoix (10 oz each) from Whole Foods.
Swaps:
For the fresh parsley: 2 Tbsp dried parsley
For the fresh rosemary: 1 Tbsp dried rosemary
For the fresh sage: 1 Tbsp ground sage
For the vegetable broth: low-sodium chicken broth