Recipe: Veggie Cauliflower "Nachos"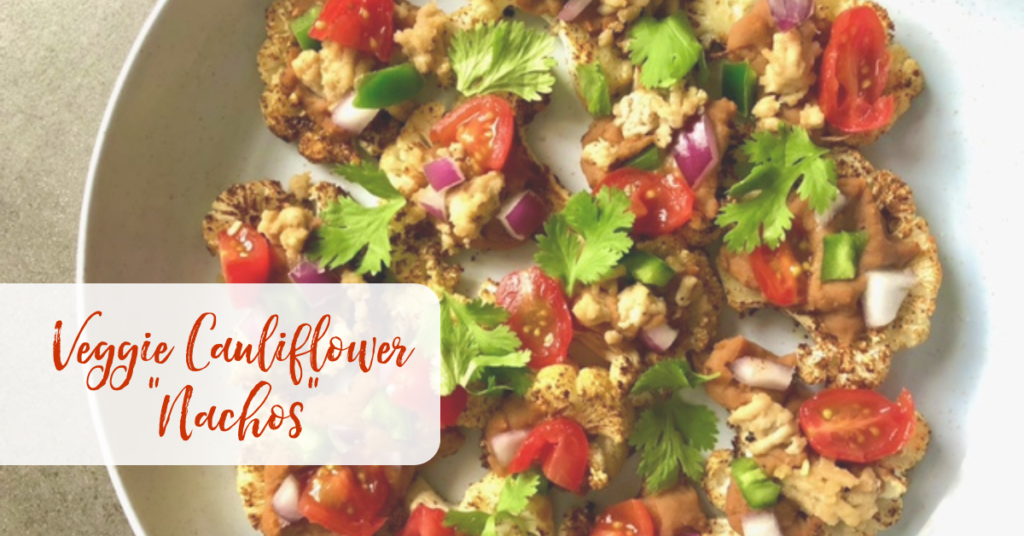 Most meals are built around the starch or protein portions of the plate, with vegetables coming in as an accent or side dish.  These nachos turned that approach on its head!  We swapped out the traditional chips for sliced cauliflower florets (an easy grain-free alternative) and tossed it with taco seasoning to roast for the perfect flavorful foundation.  Next, we layered the sliced florets with beans and ground chicken for the starch and protein, much like the nachos we know and love.  To add more freshness and flavor, we suggest layering on tomatoes, onions, cilantro, and whatever other toppings you like on your traditional nachos.  Consider the amounts of toppings as suggestions, customize them to your preferences, and if you need a knife and fork to eat these nachos, that's totally ok!
Veggie Cauliflower "Nachos"
Serves 4
Ingredients
1 Tablespoon olive or avocado oil
2 Tbsp taco seasoning
6 C cauliflower florets cut into ½-inch thick slices
1/2 can refried beans
1/2 pound ground chicken
3/4 C shredded Mexican cheddar cheese or dairy-free alternative, optional
1/2 C chopped grape/cherry tomatoes, sliced or quartered
1/4 C diced red onion
Additional optional toppings:
1 jalapeno, sliced
1/4 C chopped fresh cilantro
1 ripe avocado, diced
Hot sauce, salsa, sour cream or guacamole
Directions
Preheat oven to 425°F. Spray a large baking sheet with olive oil or avocado oil cooking spray.
In a large bowl, combine oil with taco seasoning. Add sliced cauliflower and gently toss to coat. Place seasoned cauliflower on a baking sheet, spacing out the pieces slightly so that they roast instead of steam. Bake for 20 minutes, until cauliflower is tender and starting to lightly brown.
Remove the pan from the oven; push cauliflower together in the center of the pan. Top cauliflower with refried beans, ground chicken, sprinkle with cheese (if using) as well as tomatoes and red onion.  Return to the oven and bake until the beans are heated through, and the optional cheese has melted, about 6-7 minutes.
Top cauliflower with chopped tomato, red onion, and desired optional toppings.  Serve directly from the sheet pan, and enjoy!
Swaps:
For the cauliflower: mini bell peppers (halved)
For the refried beans: black beans, pinto beans
For the ground chicken: ground turkey, ground beef, meatless crumbles
Tip:
If you purchased a 1-pound package of ground chicken, cook it all and combine the remaining portion with taco seasoning for another meal (tacos, taco salad, enchiladas, etc).  Or freeze whatever is not used on the nachos to be repurposed for the next batch.
Adapted from: https://www.eatingbirdfood.com/cheesy-cauliflower-nachos/#wprm-recipe-container-47292