Recipe: Caramelized Brussels Sprouts with Cranberries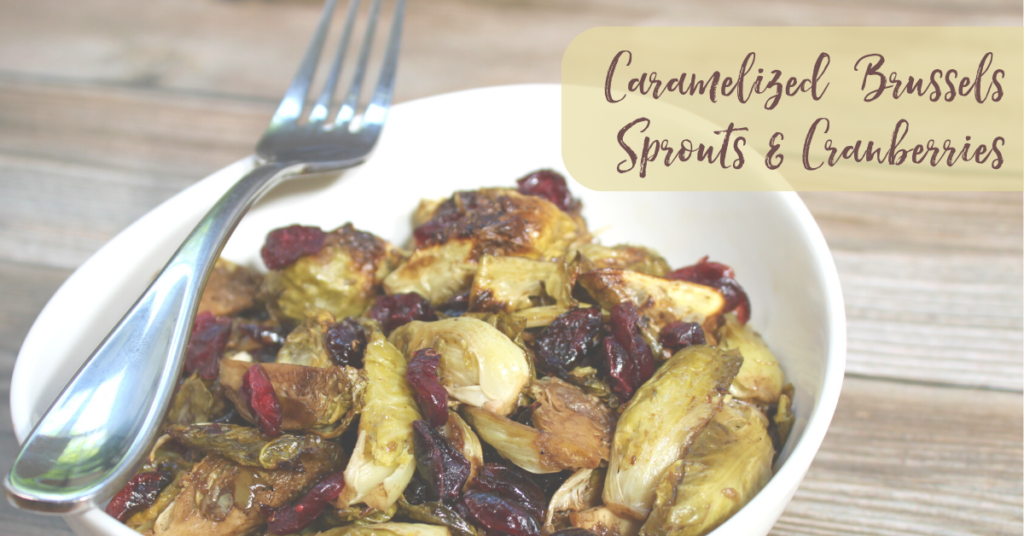 Whether a Brussels sprouts connoisseur or a self-proclaimed skeptic, this recipe's combination of sweet, savory, and tangy flavors offers a taste that will pique nearly anyone's interest!
These little powerhouses contain zeaxanthin, a phytonutrient considered vital for eye health. Roughly three ounces of Brussels sprouts provide four times more vitamin C than an orange. So, if you've sworn them off due to a past experience or simply never prepared your own at home, we hope these fabulous flavors and fun facts have sparked your culinary interest!
Caramelized Brussels Sprouts with Cranberries
Serves 4
Ingredients:
1 lb Brussels sprouts, ends trimmed
1/4 C olive oil
1/4 C balsamic vinegar
1 Tbsp stone-ground Dijon mustard
2 Tbsp honey
3 green onions, finely sliced
3 cloves garlic, minced (or 4-6 tsp minced garlic from a jar)
Salt and pepper, to taste
A pinch of red pepper flake (Optional)
1/4 C dried cranberries
Directions:
Preheat oven to 425˚F. Prepare a large, foil-lined baking sheet.
Cut Brussels sprouts in half, lengthwise. Add to large bowl.
In smaller bowl, combine olive oil, balsamic vinegar, Dijon mustard, honey, green onions, garlic, salt, pepper, and optional red pepper flakes. Combine well.
Pour balsamic mixture over Brussels sprouts. Stir gently to coat well.
Spread Brussels sprouts evenly on baking sheet. Top with dried cranberries. Place in oven. Bake 25 minutes, or until lightly crisped and browned.
Serve warm.
TIP: This serves as a great side dish for chicken, beef, pork, and salmon.
Swaps:
For the honey: maple syrup or brown sugar
For the dried cranberries: raisins, chopped pecans, or slivered almonds
For the green onion: finely diced red onion, shallots, Vidalia onion, or omit