Recipe: Roasted Butternut Squash with Maple Toasted Pepitas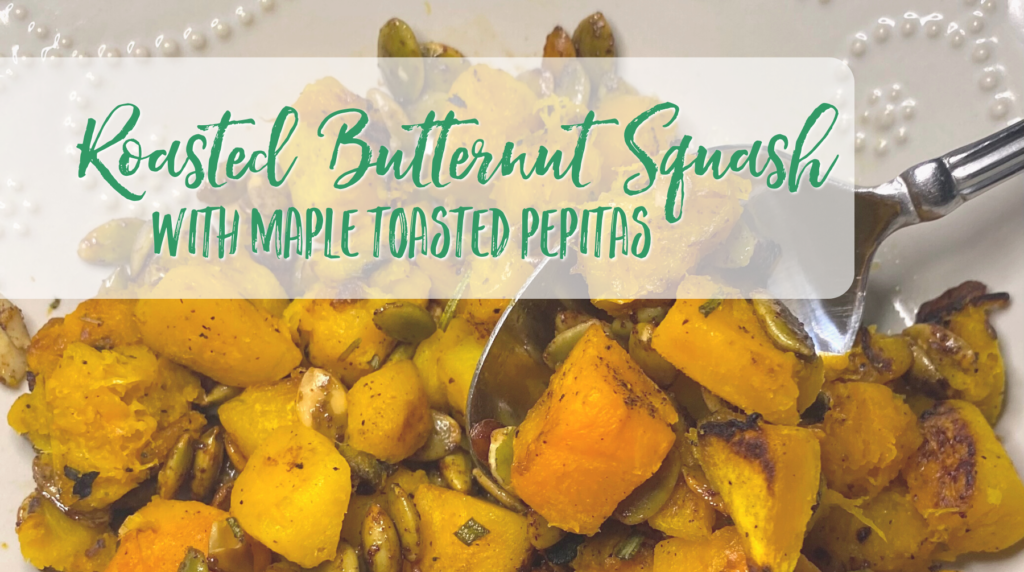 Sweet potatoes aren't the only vitamin-A-rich starchy vegetable that deserves appreciation during the fall months. Butternut squash, a type of hard winter squash, can bring a lot of flavor and nutrition to your plate but is sometimes avoided because it can be time-consuming to chop and prepare. This recipe uses frozen, precut butternut squash to save both time and money. You don't even need to thaw the squash before cooking, making this a simple side dish to throw together in a pinch. It is important to preheat the baking sheet with the oven as this will cause any ice crystals on the squash to immediately evaporate, leading to a more caramelized final product.
Butternut squash is a great source of fiber, providing approximately 7 grams per cup. Additionally, this bright veggie packs a powerful punch of vitamin C, potassium, folate, magnesium, vitamin A, vitamin E, and manganese. Vitamins A and E are both fat-soluble and their absorption in the body is enhanced with the help of dietary fat. The toasted pumpkin seeds and avocado oil assist the body in absorbing these vitamins thanks to their heart-healthy fat content!
Roasted Butternut Squash with Maple Toasted Pepitas
Serves 3-4
Ingredients:
16 oz bag of frozen, cut butternut squash
2 Tbsp avocado oil
1/8 tsp salt
1–2 tsp fresh rosemary, rough chopped
Black pepper, to taste
1/3 C shelled pepitas (pumpkin seeds), unsalted
1/4 tsp ground cinnamon
1 tsp maple syrup
Pinch of salt
Black pepper to taste
Directions:
 Adjust oven rack to lowest position. Preheat oven to 450°F. Place one medium, rimmed baking sheet into oven while preheating.
Pour frozen, cut butternut squash into medium sized bowl. With clean hands, break apart any pieces that are stuck together.
Add avocado oil, salt, rosemary, and black pepper to squash. Stir to coat.
Remove baking sheet from oven once preheated. Add squash to baking sheet. Carefully spread evenly in one layer. Place baking sheet back into oven. Roast 15 minutes.
Meanwhile, add pepitas, ground cinnamon, maple syrup, pinch of salt, and black pepper to a bowl. Mix to coat. Spread coated pepitas onto small baking sheet.
Remove squash from oven. Gently flip squash with spatula. Return to oven. Bake 5-10 minutes or until tender.
Add pepitas to oven. Cook 5 minutes, tossing half way through.
Remove both pans from oven to cool. Add squash and pepitas to serving dish. Stir to combine.
Serve immediately or store in airtight container up to 5 days.
Swaps:
For the fresh rosemary: 1 tsp dried rosemary
For the maple syrup: honey
Recipe modified from: The Kitchn