Recipe: Broccoli Salad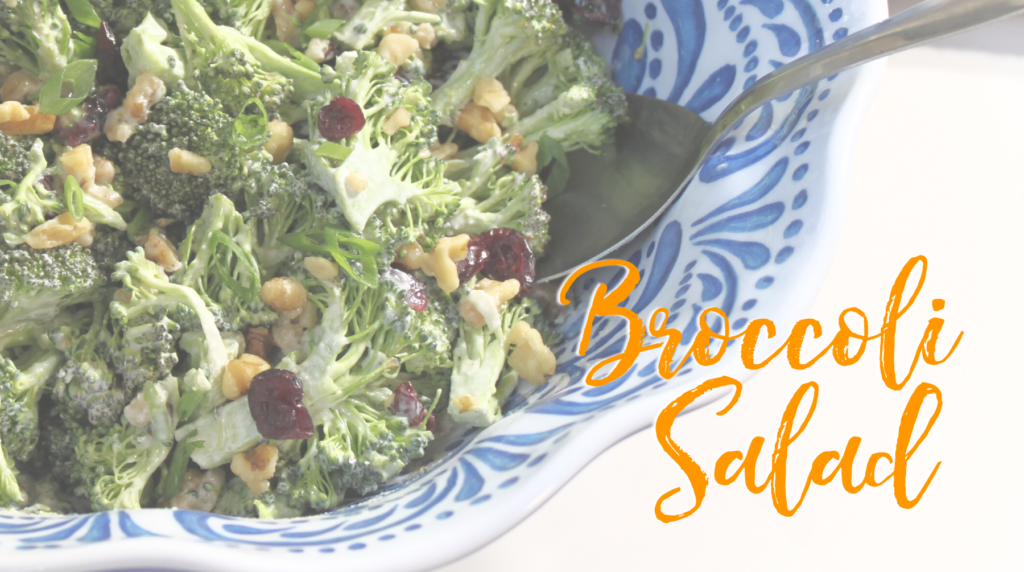 This dish is a great "make-ahead" salad that gets tastier the longer it sits. It's a fun way to use broccoli without having to turn on an oven or stove!
Broccoli is a nutrient-dense vegetable to include, whether you prefer cooked or raw.  When eaten raw, such as in this recipe, we can better access a plant compound called isothiocyanate, which studies suggest may reduce cancer risk! Not only is this recipe tasty, but it also offers some potential disease-fighting benefits as well.
Broccoli Salad
Serves 4-6
Ingredients:
1/2 C mayonnaise
2 Tbsp granulated sugar
2 Tbsp lemon juice
2 Tbsp apple cider vinegar
1 tsp garlic powder
1 tsp onion powder
Salt and pepper, to taste
4 C pre-chopped broccoli florets
1/3 C chopped pecans
1/3 C dried cranberries
3 green onions, finely chopped
Directions:
In large bowl add mayonnaise, sugar, lemon juice, apple cider vinegar, garlic and onion powders, salt, and pepper. Whisk until smooth.
Add broccoli, pecans, cranberries, and onions. Mix evenly.
Cover bowl with plastic wrap or aluminum foil. Refrigerate 30 minutes. This allows flavors to mix and broccoli to slightly soften.
Stir well before serving.
TIP: To develop the flavors, let this dish sit in the refrigerator overnight before serving!
Swaps:
For the pecans: sunflower seeds, walnuts, slivered almonds, or pumpkin seeds
For the dried cranberries: raisins, golden raisins, or chopped grapes
For the mayonnaise: plain Greek yogurt (Note: This will give a tangier taste!)
For the apple cider vinegar: red wine or white vinegar