Recipe: Breakfast Burritos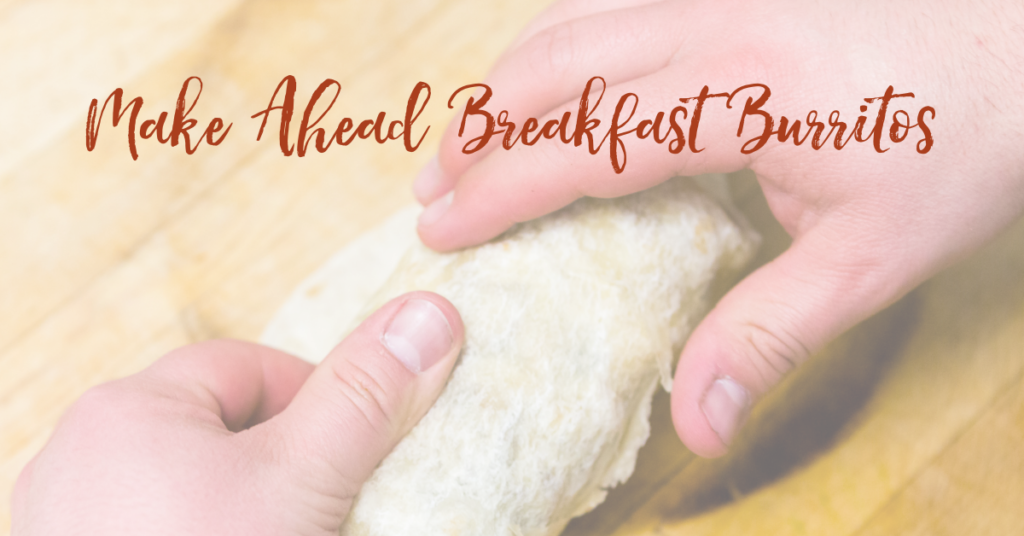 When you hear the words "meal prep," what comes to mind?  For some, meal prep may look like pre-washing or pre-chopping fruits and veggies so they are readily available during busy weeks.  For others, meal prep may mean doubling a recipe for leftovers. Some may choose to prep a week's worth of lunches or snacks ahead of time to grab and go when it is time for those meals.  No matter what strategy you choose, taking a little bit of time to prepare wholesome options can be a useful strategy as you take steps to provide your body and family with adequate nutrition.
With our fast-paced lives, time is a valuable resource, and breakfast can often become rushed amidst the demands of hectic routines. This is where freezer meal prep can emerge as a game changer. By dedicating a little extra time upfront to prepare these delicious and convenient freezer breakfast burritos, you can reclaim those precious moments in the morning and relish a satisfying, well-balanced meal that fuels both your body and mind.
Time-saving benefits are just the tip of the iceberg with this recipe. These breakfast burritos boast an array of nutrient-rich ingredients that contribute to overall health and vitality. Eggs are the star of the show, packed with six grams of high-quality protein and an abundance of essential nutrients, including vitamins B12, B5, A, and D, along with the minerals iron, selenium, phosphorus, choline, and zinc. Additionally, the vibrant medley of frozen peppers and onions not only adds a visual appeal through their colors but also provides an array of nutrients, such as vitamin C, to elevate the nutritional profile of this dish. Utilizing frozen veggies for convenience still ensures optimal freshness and eliminates the need to break out a cutting board during preparation. Hearty black beans pack a punch of dietary fiber and plant-based protein, promoting digestive health and satiety.
Whether you are a working professional, busy parent, or student, these easy freezer breakfast burritos will streamline your mornings and set you up for success with optimal nutrition. With careful planning, you can conquer hectic mornings, nourish your body with wholesome ingredients, and set the stage for a wonderful day!
Breakfast Burritos
Serves 8
Ingredients:
8 burrito-sized tortillas
Cooking spray
10 whole eggs
1/4 tsp each salt and pepper
3 C frozen peppers and onions
1 can black beans, drained and rinsed
1 1/2 C shredded Mexican cheese
Supplies:
8 pieces of parchment paper, cut large enough to wrap each burrito
Large mixing bowl
Whisk
Spatula
1 medium pan
Gallon-sized freezer bags or alternative food storage container
Marker for labeling, or label maker
Directions:
Lay pieces of parchment paper out on a clean surface. Place one tortilla on each sheet of parchment paper.
Crack eggs into a large bowl. Add salt and pepper and whisk until whites and yolks have combined.
Add cooking spray to a medium-sized pan and place over medium heat. Add frozen vegetables and black beans. Cook until vegetables are thawed, stirring with spatula to cook through. Pour eggs into the pan and scramble until cooked through. Set aside to cool.
Evenly distribute cheese between each tortilla.
Once cooled, evenly distribute egg scramble mixture onto each tortilla.
Roll into burrito (watch video linked here for instructions). Roll parchment paper around each burrito.
Label freezer bag with current date, expiration date (approximately two months out), and reheating instructions. To reheat, thaw in microwave on defrost mode, then heat for 1-2 minutes. Store in freezer for up to two months and enjoy with your favorite toppings (salsa, cilantro, avocado, etc.)
TIP: The black beans may cause eggs to lose their bright, yellow hue. Stir black beans in at the end of cooking to prevent this effect!
Swaps:
For the peppers and onions: broccoli, tomatoes, mushrooms, or spinach
For the eggs: vegan egg substitute
For the cheese: dairy-free cheese or omit
Recipe modified from: https://workweeklunch.com/veggie-breakfast-burritos/