Recipe: Braised Collard Greens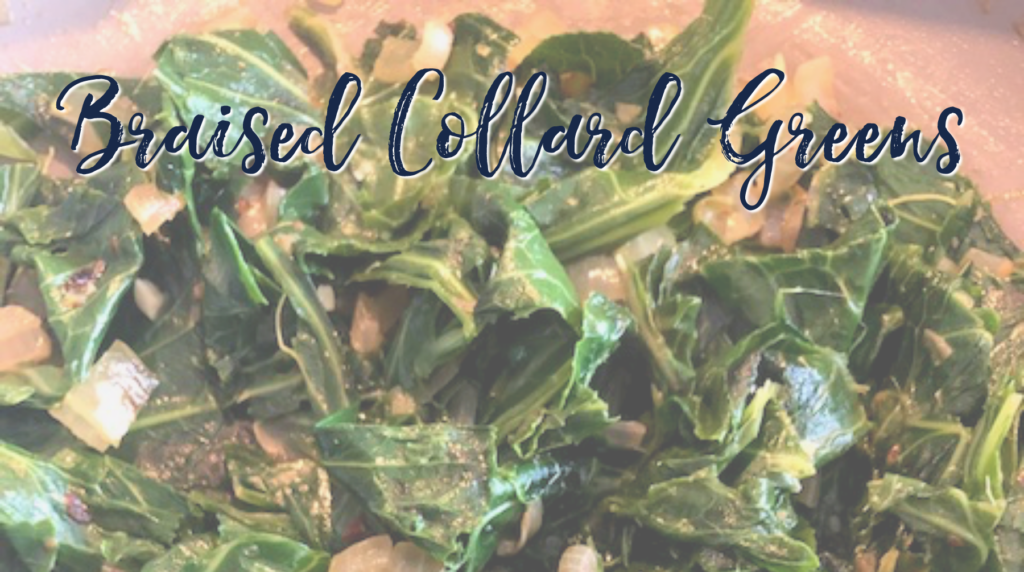 Braising is a cooking method defined as a combination of both wet and dry heats, usually starting with a pan sear or browning, followed by a slow simmer in cooking liquid to tenderize and infuse flavors. For these collards greens, we're flipping the script slightly. In this recipe, we tenderize the greens in water before cooking them down with flavoring elements, creating an easier yet equally-savory result.
If you're looking to level up the flavor or customize your greens a bit, check out the tips section for a few ways to deepen the flavor.
Got extra greens? Feel free to double the recipe and freeze some. The cooked greens hold up well and can easily be reheated for a ready-made vegetable side dish to round out a future meal.
Braised Collard Greens
Serves 4
Ingredients:
1/4 tsp kosher salt plus more, to taste
2 large bunches collard greens (about 6-8 C fresh, chopped greens)
1 Tbsp olive oil
1/2 sweet yellow onion, diced
2 garlic cloves, minced (or 3-4 tsp minced garlic from a jar)
1/2 tsp red pepper flakes
Instructions:
In large pot on stove over high heat, boil water and 1/4 tsp kosher salt.
Meanwhile, rinse collard green leaves under cold water, use knife to remove and discard long center stem, and chop leaves into 1-inch strips. Add strips to boiling water. Cook 12-15 minutes.
Heat olive oil in medium sauté pan on stove over medium heat. Add onion. Sauté until translucent and edges start to brown, stirring occasionally. Add garlic. Cook 1 minute, stirring constantly to avoid burning garlic.
Strain collards, reserving 1/2 C cooking liquid. Add collards, reserved liquid, and red pepper flakes to onion and garlic. Add salt, to taste.
Reduce heat to medium-low. Partially cover with lid so some moisture can escape. Cook 15-20 minutes, or until cooking liquid evaporates and collards reach desired tenderness.
TIP: Looking to add a subtle pop of flavor to your collards? Swap sesame oil for olive oil when cooking and/or finish with a splash of lemon juice or apple cider vinegar.
Recipe modified from: Simple-Nourished-Living.com