Recipe: Fiber-full Blueberry Cinnamon Oats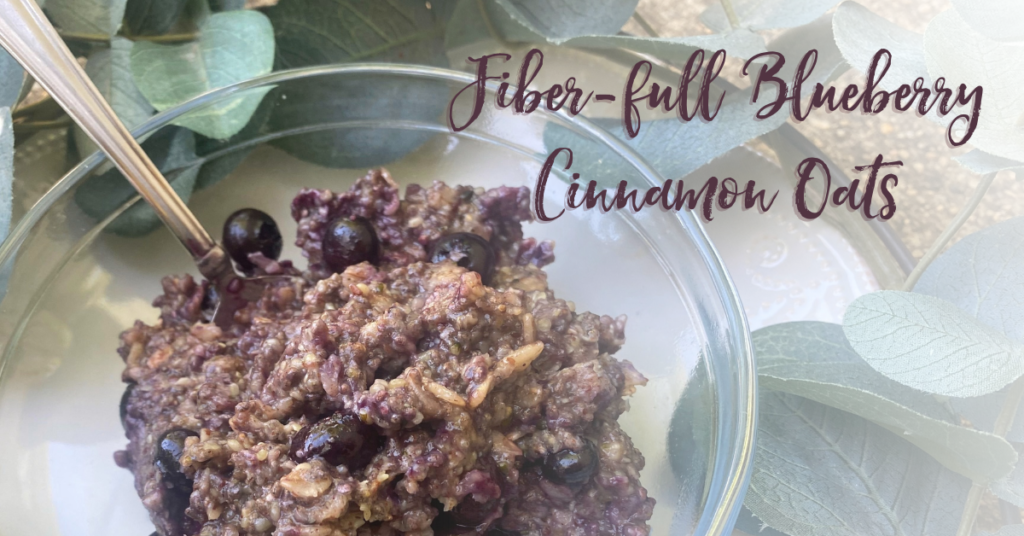 Have you ever heard that breakfast is the most important meal of the day? There may be some truth to that! Breakfast sets the tone for our energy levels and metabolism throughout the day, allowing us to function at our best. However, with busy mornings and crammed schedules, it can be challenging to find a quick and healthy breakfast option to provide that morning fuel. Enter oatmeal – a simple, delicious, and nutrient-dense breakfast option that has been enjoyed for centuries!
Oats are a whole grain packed with fiber and essential nutrients. Oats alone contain soluble fiber, which dissolves in water to form a gel-like substance to help slow digestion and promote feelings of fullness.1 Soluble fiber is known to promote healthy cholesterol levels by binding to bile acids within the intestine to remove them from the body.2 Insoluble fiber, alternatively, can help prevent constipation and promote regular bowel movements.1
To increase the fiber content of oatmeal even further, consider topping it with fruits or seeds. This recipe contains a total of around 15 grams of fiber thanks to the oats, hemp, chia, flax seeds, and frozen blueberries. In general, women and men under 50 years of age need around 25 and 38 grams of fiber, respectively. After 50, the needs for women and men reduce slightly to around 21 and 30 grams per day.1 It is often recommended to gradually increase fiber intake rather than all at once, therefore, some may benefit from choosing one or two of the included seeds rather than all three, depending on your usual intake.1
Fiber-full Blueberry Cinnamon Oats
Serves 1
Ingredients:
1/4 C old-fashioned rolled oats, dry
1/2 C + 1 Tbsp water
1 Tbsp ground flax seeds
1 Tbsp chia seeds
2 Tbsp hemp seeds
1 Tbsp brown sugar
1/3 C frozen blueberries
Directions:
Add oats and 1/2 C water to microwave-safe dish and heat for one minute. Remove from microwave and stir.
Add ground flax, chia, and hemp seeds to dish along with 1 Tbsp water. Stir until combined. Return to microwave and cook for one minute.
Add brown sugar and blueberries to dish. Stir completely, then microwave for an additional 30 to 45 seconds or until blueberries have thawed.
Sprinkle with cinnamon as desired, and enjoy!
Swaps:
For the blueberries: raspberries, blackberries, or strawberries
Sources: (optional)