Recipe: Blackened Salmon Grain Bowl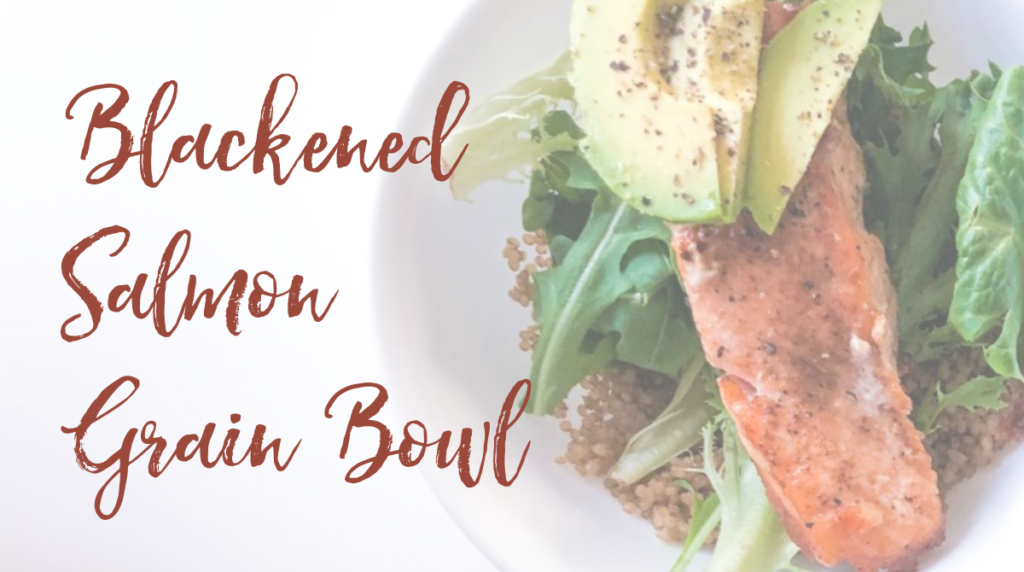 The elements of this meal-in-a-bowl come together quickly and make for a fast, plate method meal – perfect for a weeknight. This dish is as delicious as it is versatile. Loaded with healthy fats from salmon and avocado, as well as protein from salmon and quinoa, this recipe will please palates and satisfy stomachs. While it's certainly tasty as-is, be sure to check out the swaps section in case you are looking for a meal idea without taking an extra trip to the store. We hope the various alternatives make this a flexible framework for a plate method meal any day of the week.
Blacked Salmon Grain Bowl
Serves 4
Ingredients:
1 C dried quinoa
4 skinless salmon filets (roughly 4-5 oz each)
1-2 Tbsp Cajun or blackened seasoning
1 Tbsp oil or cooking spray
5 oz bag mixed greens
1 C salsa, divided
1 medium avocado, sliced
2 Tbsp of your favorite salad dressing (Optional)
1 Tbsp sour cream (Optional)
Directions:
Cook quinoa according to box/bag directions. Usually, add 1 C quinoa and 2 C water to saucepan and bring to a boil on stove over high heat. Reduce to low, cover, and simmer for 15 minutes. Stir/fluff quinoa with a fork and let sit for 5 minutes before serving.
When quinoa is almost finished cooking, sprinkle top of each salmon fillet with blackened or Cajun seasoning.
Place oil in large sauté pan (or spray with cooking spray). Heat for 2 minutes over medium-high heat on stove top. Place salmon fillets in sauté pan and cook 4-5 minutes on each side. Remove from heat.
Portion quinoa equally into 4 serving bowls. Top each with equal portions of mixed greens, salmon, salsa, and sliced avocado. Add dressing or sour cream, if desired, and enjoy!
Swaps:
For the quinoa: rice or cauliflower rice
For the salmon: shrimp, cod, chicken, steak, black beans, or tempeh
For the mixed greens: lettuce, spinach, kale, or frozen broccoli
For the salsa: pico de gallo, chopped/canned tomatoes, or diced onion
For the avocado: sour cream or plain Greek yogurt