Recipe: Black Bean Salad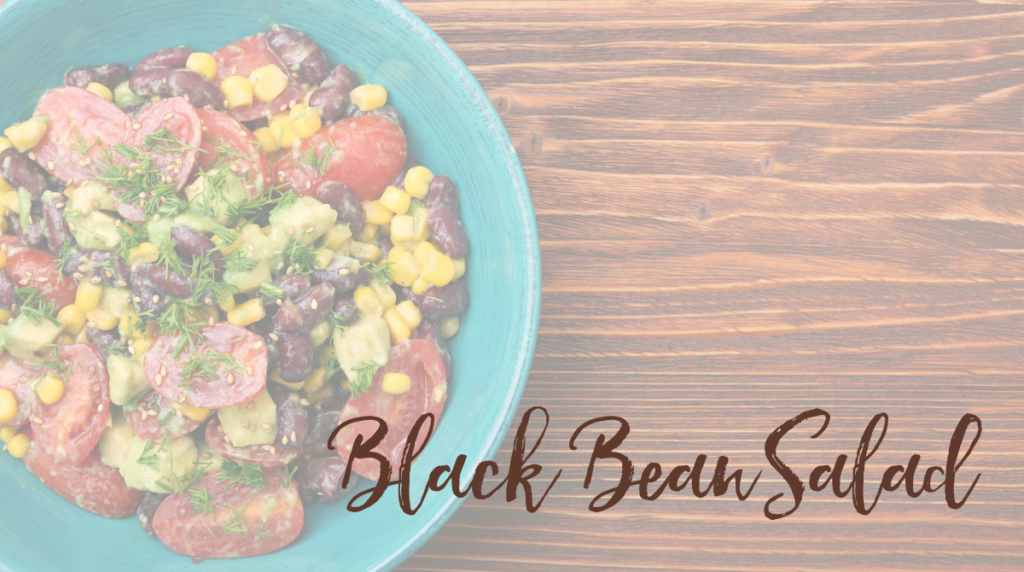 Salads don't have to be made with greens. They can be a great way to bring more veggie variety and plant-based protein into your diet!
Black beans are a good source of protein and iron. Plant-based iron, also called non-heme iron, is not as easily absorbed by the body as meat-based, or heme-iron. However, vitamin C (like that found in the lime juice, tomatoes, and bell pepper in this recipe) helps to make the iron in these beans more available to the body. And lucky for us, they are delicious pairings!
Beans are also an excellent source of fiber. Fiber is a type of carbohydrate the body can't break down, which means it won't affect blood sugar levels. This "roughage" is vital for a healthy digestive tract and helps us keep satiated after a meal!
If you're concerned about flatulence from beans, here are a few tips:
1) Try to slowly increase your fiber intake. Your body will adjust as you do!
2) Work on drinking at least 64 oz of water a day. Water needs to work alongside fiber to keep things moving along the digestive tract.
3) Make sure to chew your food well. Eating quickly and swallowing air can increase the likelihood of experiencing gas.
Black Bean Salad
Serves 6
Ingredients
2 cans black beans (15 oz, each), drained and rinsed
15 oz can corn, drained and rinsed
1 C cherry tomatoes, halved
1 bell pepper, chopped (red, yellow, or orange)
1 small red onion, diced
½ C chopped cilantro leaves
1 small jalapeño, chopped (optional)
1 lime, juiced (approximately 2 Tbsp)
2 Tbsp olive oil
1 tsp chili powder
½ tsp cumin
Salt and pepper to taste
Optional toppings
Sliced avocado
Chopped green onions
Directions
In a large serving bowl, combine black beans, corn, cherry tomatoes, bell pepper, red onion, cilantro, jalapeño, lime juice, olive oil, chili powder, cumin, salt, and pepper. Stir to mix together well.
Taste to make sure flavors are to your liking, adding a bit more olive oil and spices, if needed, to coat salad thoroughly. Serve immediately or let salad sit in refrigerator for an hour before serving to let flavors combine.
Swaps
For the black beans: any other bean of choice
For the jalapeño: poblano pepper or another bell pepper
Recipe modified from: Cookie and Kate