Recipe: Smitten Roasted Beet Salad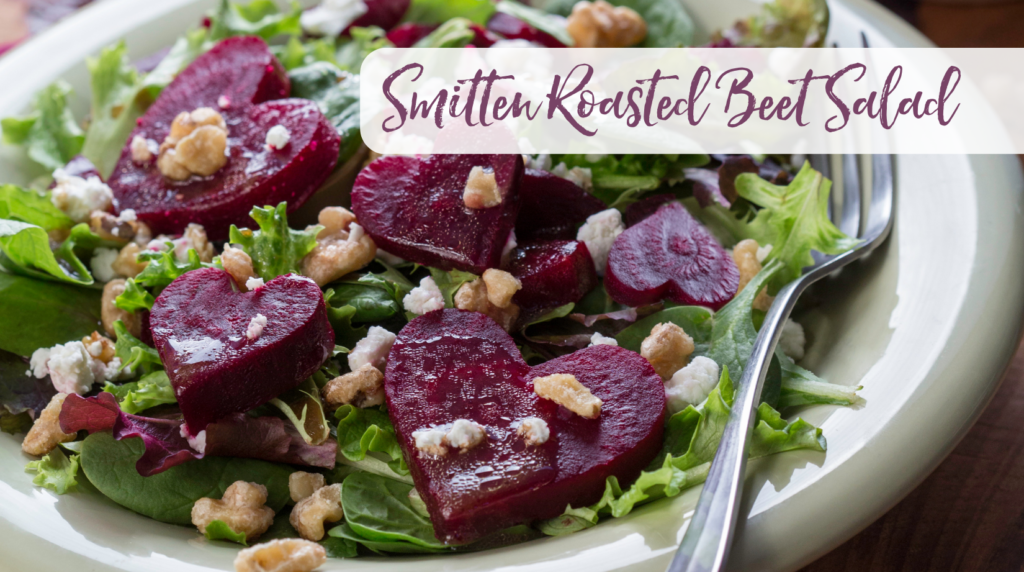 It's officially Heart Month! This unique side salad can be used as a cute Valentine's Day side dish or an anytime side to help boost heart health with beets.
This vibrant veggie may help temporarily lower your blood pressure and is a good source of vitamin K which assists with adequate blood clotting and bone health. Beets may also help combat inflammation. As a warning: beets' bright color is a good sign that they're nutrient-rich, but beware they can also stain surfaces (and hands) easily!
While the arugula in this dish won't stain your hands, it will also help support your body with vitamin K. Its peppery taste also adds a nice balance to this dish's sweet & tangy flavor profile.
This salad can be made in many different ways – feel free to swap out ingredients as desired!
Smitten Roasted Beet Salad
Serves 4
Ingredients
3 medium beets
1 Tbsp avocado oil
1 small zucchini
4 tsp white balsamic vinegar
1 Tbsp lemon juice (approximately 1/2 lemon)
2 tsp grainy Dijon mustard
1/4 C extra virgin olive oil
3 C arugula
1/4 C feta cheese, crumbled
1 Tbsp shelled pistachios
Directions
Preheat oven to 375 F. Scrub beets thoroughly under cold water. Remove top and bottom. Coat with 1 Tbsp avocado oil. Seal beets loosely in aluminum foil pouch. Place pouch on baking sheet. Roast 1 hour.
Wash and peel zucchini. Discard peel. Use vegetable peeler to slice zucchini lengthwise into thin ribbons. Set aside.
Remove beets from oven. Discard foil pouch. Place in bowl of cold water, 3 minutes.
Rub beets to remove and discard skins. Cut into 1/8-inch discs. Chill 4 hours.
In small bowl, whisk together vinegar, lemon juice, Dijon mustard, and olive oil. Set aside.
When ready to serve, whisk dressing to combine – it may have separated. Add arugula, zucchini, and dressing to large bowl. Use tongs to combine well.
Serve topped with feta, pistachios, and sliced beets.
TIP: For a festive spin, use a small, heart-shaped, cookie cutter and cut hearts from the beet slices!
Swaps
For the avocado oil: olive oil
For the beets: strawberries or pomegranate arils
For the white balsamic vinegar: rice wine vinegar
For the lemon juice: apple cider vinegar or lime juice
For the arugula: spinach or mixed greens
For the feta: crumbled goat cheese or a non-dairy cheese alternative
For the pistachios: cashews, slivered almonds, toasted pecans, or pine nuts