Recipe: Balsamic Chicken Roll-Ups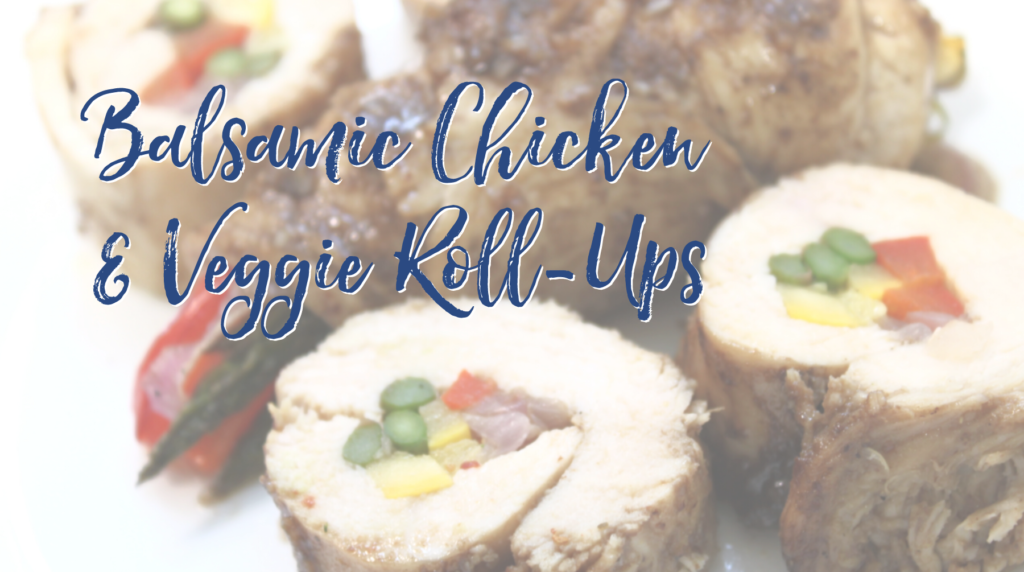 This is an elevated chicken dish that's as tasty as it is impressive in presentation. Maybe most surprisingly, with a little bit of veggie prep, these roll-ups come together in a short amount of time.  Pairing marinated chicken with rainbow veggies serves as a fun and delicious change from a standard chicken recipe.
Did you know that the more color we get from our produce, the more disease-fighting benefits we receive? Those colorful phytonutrients can do everything from helping lower cholesterol to reducing the risk of certain cancers! While it's true we eat with our eyes first, these vibrant hues provide our body much more than just looking pretty on the plate – but we'll celebrate that aspect too!
Balsamic Chicken Roll-Ups
Serves 4-5
Ingredients:
1/4 C olive oil
1 Tbsp stone ground Dijon mustard
1 Tbsp honey
1/4 C balsamic vinegar
3 cloves garlic, minced
Salt and pepper to taste
1 1/4 lb thin-sliced chicken breasts
Toothpicks, as needed
1/2 lb asparagus spears, ends trimmed off
1/4 medium red onion, thinly sliced
1/2 yellow squash, cut into matchsticks
1/2 large red bell pepper, cut into matchsticks
Directions:
In small bowl combine olive oil, mustard, honey, vinegar, garlic, salt, and pepper. Whisk until well-combined.
Place chicken in shallow dish and pour marinade mixture on top, covering chicken evenly. Marinate in fridge 30 minutes.
Preheat oven to 400˚F. Line baking sheet with foil. Assemble all vegetables on cutting board.
Place chicken on flat surface. Layer 2-3 pieces of each vegetable on chicken. Keep close to one end. Ideally, pile vegetables atop each other. Starting at end vegetables are on, roll chicken tightly over vegetables until chicken is completely rolled. Use toothpicks to prevent chicken from unraveling. Place chicken on baking sheet.
Repeat step #4 until all chicken breasts are stuffed with vegetables and securely rolled-up. Place sheet in oven and bake 25 minutes.
Remove from oven. Cool 5 minutes before serving.
Swaps:
For the chicken: pork chops or steak
For the honey: agave, sugar, or maple syrup
For the Dijon: yellow mustard, Worcestershire sauce, or honey mustard
For the vegetables: Zucchini, eggplant, carrots, or portabella mushrooms