Back to School: Recipes for Focus and Fun!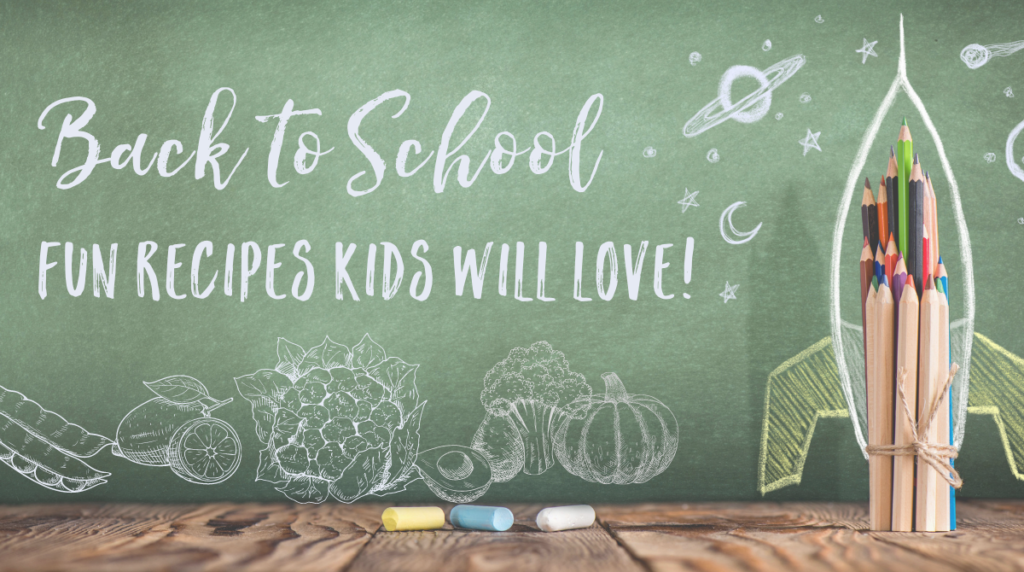 There's no doubt about it, this school year isn't exactly what many of us imagined it would be.  Even so, you'll be glad to hear that within this challenging time there are many opportunities for growth and wellness—not just for us as parents and caregivers, but for our children too!
Nutrition is one pillar of wellness that can be used as a powerful tool for navigating the added layer of stress that a pandemic creates.  Fueling children with nutrient-dense foods is essential in helping them find focus and feel their best during this time.
The recipes below are not only easy to make but they highlight ingredients rich in fiber (whole grains, flax seed and veggies), protein and healthy fats (cheese and nut butter).   Whether you're looking for a sweet or savory snack, these recipes are a great way to make healthy eating accessible any time of day.  We know kids are often more willing to try new or different foods if they see where it comes from or how it's made, and especially if they can help in the process.  And, because children learn through play, it never hurts to offer foods that are fun too!  Read below for a few creative and healthy recipes.
Pizza Faces
Looking for an edible art project? We've got you covered!
Serves 1-2
Ingredients
1 whole grain English muffin
1/2 C tomato sauce, separated
A variety of raw vegetables for pizza toppings
1/2 C shredded cheese (or dairy-free cheese alternative of choice)
Directions
Preheat the oven to 350 degrees.
Cut your vegetables up into various shapes and sizes. Set aside. As you prepare the veggies, keep in mind how each one could be used to make features on a face. For inspiration, see the ideas below!
Cut the English muffin in two, sandwich-style, and place flat side down and textured side up on a plate. Top each side with a spoonful or two of tomato sauce and spread evenly across the top of the English muffin.
Sprinkle the cheese or cheese alternative on top.
Encourage your children to use the prepared vegetables to create faces on top of their pizzas.
Once their faces are complete, place on a baking sheet and bake in the oven for 5-8 minutes, or until the cheese is melted.
 Pizza Face Topping Ideas
Hair: shredded carrots, shredded spinach or kale leaves, herbs, broccoli florets
Eyes and nose: diced carrots, diced cucumber or zucchini, cherry tomato halves, olives, mushrooms, peas, corn
Mouth: shredded carrots, bell pepper strips, thin avocado slice, sliced beets, green beans
Pumpkin Power Balls
Back-to-school season and fall pumpkins are the perfect pairing! Children can easily prepare this lunch-box-friendly recipe themselves (with guidance).
Serves 5-8
Ingredients
1 1/2 C rolled oats
1/2 C 100% pure canned pumpkin (not pumpkin pie filling)
1/2 C nut or seed butter (almond, sunflower seed, peanut butter, etc.)
1/4 C pure maple syrup or pure local honey
1/4 C ground flaxseed
1/2 Tbsp cinnamon
1 tsp dried ginger or 1 Tbsp fresh ginger
1/2 tsp nutmeg
1/2 tsp ground cloves
Extras (optional)
1/4 C raisins
1/4 C semisweet chocolate chips
1/4 C unsweetened coconut flakes
2 Tbsp chia seeds
1 tsp vanilla extract
Directions
 Add oats to a large bowl and add each additional ingredient one at a time, stirring with a spoon in between each addition, until all ingredients are mixed.
 Once the mixture is uniform, use your hands to shape it into balls.
 Serve immediately and store leftovers in an airtight container for up to one week in the refrigerator.