Recipe: Apple Cinnamon Protein Mug Cake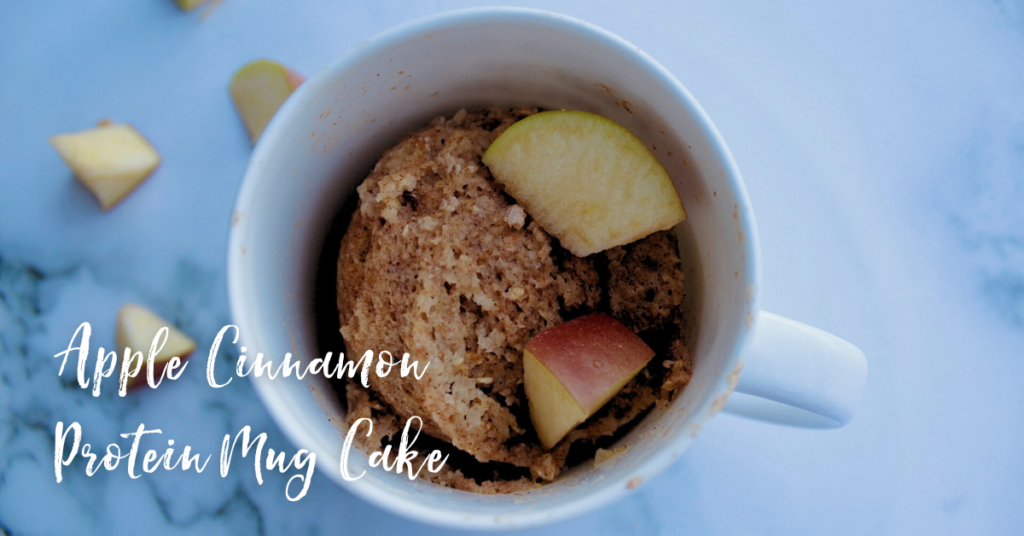 Your own personal baked good served up in 5 minutes! Cozy up with this mug cake that incorporates seasonal apples. They provide an excellent addition of fiber, along with oats and almond flour. In addition, the protein powder and the optional vanilla Greek yogurt topping add a helping of protein. This recipe is gluten-free and can be made dairy-free by swapping out yogurt for dairy-free yogurt.
This combination of complex carbs, fiber, and protein will give you a balanced, sweet snack that you can enjoy with the comfort of knowing you are also getting in nutritious, whole foods.
Apple Cinnamon Protein Mug Cake
Serves 1
Ingredients:
3 Tbsp almond flour
1/2 tsp cinnamon
1/8 tsp baking soda
1/8 tsp sea salt
1 Tbsp oats
1/2 scoop vanilla protein powder
2 Tbsp applesauce
2 tsp maple syrup
1/8 tsp vanilla extract
1 large egg
1/4 medium apple
2 Tbsp vanilla Greek yogurt (Optional)
Directions:
Chop 1/4 apple into bite-size pieces, discarding core and seeds.
Combine almond flour, cinnamon, baking soda, sea salt, oats, and protein powder in microwave-safe mug.
In separate, small mixing bowl, mix together applesauce, maple syrup, vanilla extract, and egg. Add wet to mug and stir into dry ingredients until achieving cake batter consistency.
Fold in chopped apple.
Microwave 1.5 minutes.
Cool 2-3 minutes. Serve topped with optional vanilla Greek yogurt.
TIP: Microwaving time may vary by plus or minus 30 seconds based on microwave power.
Swaps:
For the almond flour: flour of choice
For the vanilla protein powder: unflavored protein powder or unflavored collagen peptides
For the egg: flax "egg" (mix 1 Tbsp ground flax seed with 2.5 Tbsp water in small bowl, let sit 5-10 minutes to reach gel consistency)
For the vanilla Greek yogurt: Siggi's plant-based vanilla cinnamon yogurt
Recipe modified from: Nom Nom Paleo