Recipe: Apple Crisp Baked Oatmeal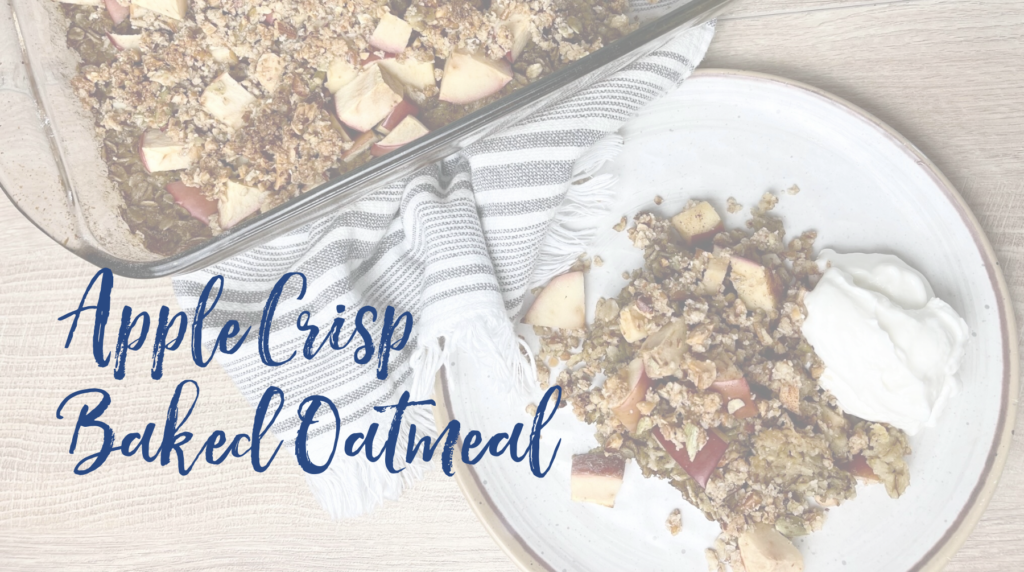 Move aside overnight oats!  If you don't love the texture of overnight oats or eating your oats cold, this baked oatmeal dish offers a new way to prepare oats for the week.  The crisp topping is made from a beautiful blend of nuts and seeds to give a little boost of protein, fiber, and healthy fats which balance the complex carbohydrates from the oats and apples. We recommend heating it up when you are ready to eat and you can even serve your baked oatmeal square with a dollop of your favorite plain Greek yogurt for some added protein and an oh-so-creamy delight!
Apple Crisp Baked Oatmeal
Serves 6
Ingredients:
Baked Oatmeal
Nonstick cooking spray
2 1/2 C rolled oats
1 tsp cinnamon
1 tsp baking soda
1/2 tsp salt
3 C unsweetened almond milk
1 tsp vanilla extract
1 egg
2 Tbsp coconut oil, melted
1/3 C pure maple syrup
2 apples
Crumble Topping
1/2 C almond flour
1/2 C pecans
1/4 C coconut flakes
1/4 C pumpkin seeds
1/4 C almonds
1/4 C coconut oil
2 Tbsp pure maple syrup
1 tsp cinnamon
1/4 tsp nutmeg
1 tsp vanilla extract
Directions:
Preheat oven to 350°F. Coat 8×11 baking dish with nonstick spray.
In mixing bowl, combine rolled oats, cinnamon, baking soda, and sea salt. Stir to mix well. Transfer mixture to prepared baking dish.
In same mixing bowl combine almond milk, vanilla extract, egg, melted coconut oil, and maple syrup. Whisk well to thoroughly combine. Don't worry if coconut oil starts to harden, it will melt in oven.
Pour wet mixture into baking dish over dry ingredients. Stir to incorporate well. Bake 20 minutes.
Chop apples into bite-sized chunks.
Add crumble topping ingredients to food processor. Pulse until coarse, crumble-like texture achieved.
Remove dish from oven. Top with chopped apples. Evenly distribute crumble atop apples. Bake 20 minutes.
Remove baked oatmeal from oven. Cool 5-10 minutes. Slice into 6 squares for serving. Store remaining squares in refrigerator up to 5 days.
TIP: Serve warm with 1/4 C plain Greek yogurt for an additional 5-7 grams of protein.
Swaps:
For the almond milk: unsweetened cashew, soy, or dairy milk
For the pecans and/or almonds: walnuts or cashews
For the coconut flakes: unsweetened shredded coconut
Recipe modified from: Kay Nutrition and Rachael's Good Eats