Recipe: Warm Ribboned Root Vegetable Salad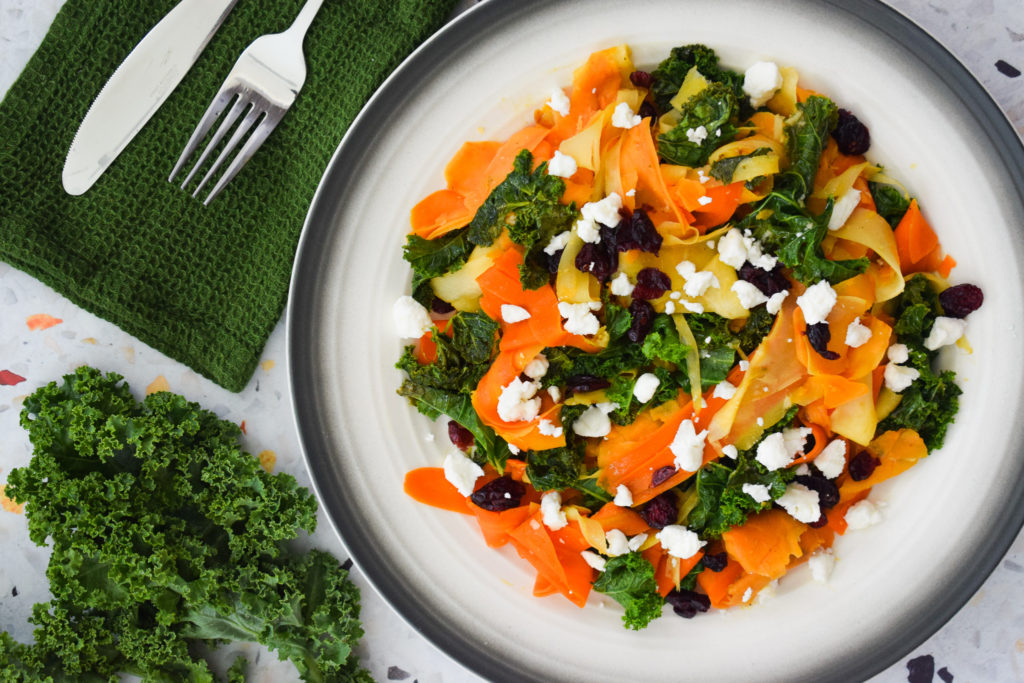 Thanksgiving is a wonderful holiday for a cornucopia of reasons. It's a time where we're able to practice gratefulness, spend time with loved ones, and enjoy meals with seasonal ingredients in dishes we may only make once yearly.
During the holiday months, there are many nutrient-dense ingredients found in our traditional favorites: bright cranberries in the cranberry sauce, succulent turkey, and yes, even the green beans in that green bean casserole! Sometimes these ingredients can get muddled with excess sugar or indulgent additives. This season, try letting those nutrient-dense ingredients shine!
Enjoy the recipe below which highlights a seasonal rockstar, the sweet potato, in a dish much different than a pie or casserole topped with marshmallows.
You can get more recipes and information on how to have a healthy & happy holiday by visiting Summerfield Custom Wellness's Holiday Guide.
Warm Ribboned Root Vegetable Salad 
Ingredients
Salad
2 large carrots
1 medium/large parsnip
1 sweet potato
2 handfuls of kale, chopped
2 Tbsp unsalted butter
1 Tbsp goat cheese crumbles
2 Tbsp dried cranberries
Dressing
2 Tbsp olive oil
2 Tbsp apple cider vinegar
2 Tbsp ginger paste (or ½ tsp ground ginger)
1 tsp spicy brown mustard
¼ tsp poultry seasoning
1 tsp maple syrup
2 cloves garlic, crushed
Dash of salt
Directions
Wash carrots, parsnip, and sweet potato, and peel outside layer of each with a vegetable peeler.
Continuing to use the vegetable peeler, make large "ribbons" with carrots, parsnip, and sweet potato.
In a large pan, melt butter on medium heat.
Add the ribboned vegetables and sauté until softened (about 8-10 minutes).
Add kale to ribboned vegetables and cook until slightly tender (1-2 minutes).
In a medium bowl, whisk all dressing ingredients together.
Pour dressing over veggies and cook for 1 minute.
Remove from heat and top with goat cheese crumbles and cranberries.
Summerfield Custom Wellness wishes you a happy, safe, and delicious Thanksgiving!